This Group runs voluntarily on a fortnightly basis on Wednesdays by Carers whose loved ones are affected by Dementia / Alzheimer's who saw the benefit of sharing the journey of this terrible disease with others in the same position. Gerald, Edith and Judy met at a similar fortnightly group in Tytherington but felt the need to meet weekly as our spouses were enjoying the familiarity and friendship. Gerald kindly offered his house and from August 2016 we met on alternate weeks to Tytherington. Word spread and at one meeting we squeezed 16 into his kitchen/diner which was when we considered hiring a room somewhere.
Our first meeting was on January 18th 2017 at Poynton Methodist Church following a successful application for a grant from Cheshire East under the Participatory Budgeting Scheme in November 2016. We were awarded sufficient funds for the first year's rent plus an additional £500 towards activity items and initial setting-up expenses. However after only 4 meetings, on 29th March 2017, we moved to the large hall at The Centre in Poynton, 107 Park Lane and after 3½ years we moved to The Main Hall at Poynton Civic Centre, Off Park Lane, SK12 1RB. The three of us were delighted to receive "Civic Pride Award Certificates" in July 2019 in recognition of our 'sustained and significant' contribution to the community of Poynton.
The Group operates on a "drop-in" basis and the only criteria to coming is that a person living with Dementia / Alzheimer's MUST be accompanied by their spouse, a relative or a Carer.
The aim of the get-togethers is to lighten everyone's spirits and support our members with laughter, enjoyment, information and most importantly – friendship. We always start with a hearty sing-song followed by a dance or two which puts a smile on everyone's face before doing light exercise and seated games (parachute, bounce the ball etc.). Soup, bread and cake is for lunch at 1pm.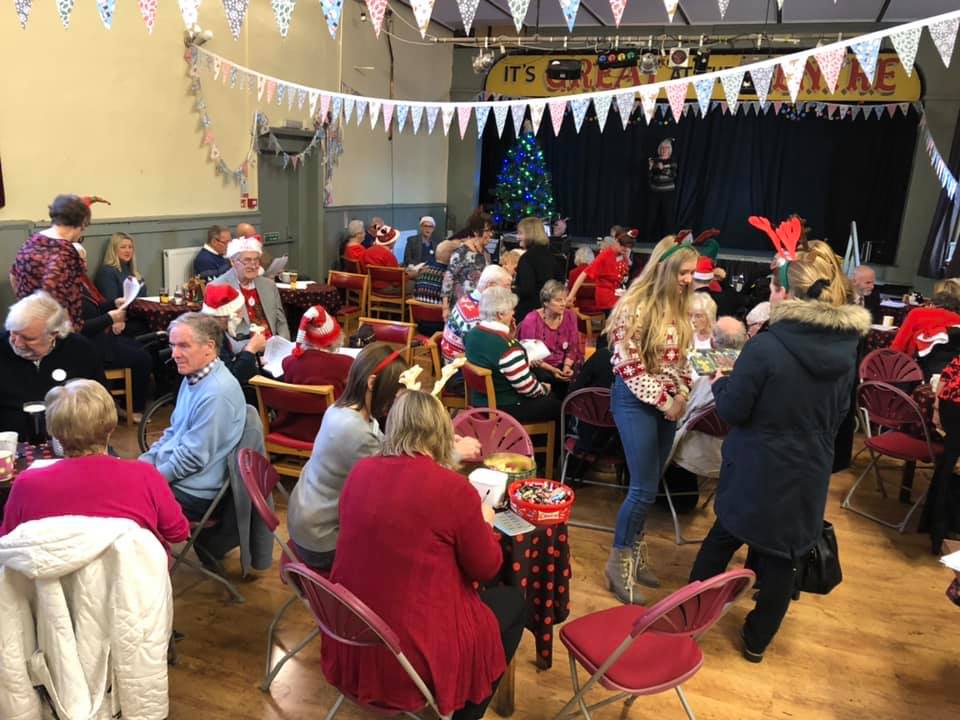 After lunch there are a variety of table-top activities such as jig-saws, painting, dominoes, Connect 4, etc. plus creative crafts/painting which can be in groups, teams or individually. We are lucky to have a large number of volunteers to help share the activities (and the washing up!) so the Carers can have time for a quiet chat amongst themselves should they want. We always end with bingo (and prizes of course) a great favourite.
In addition, we organise outings which help our Members to socialise and bond the new friendships. Since starting in 2017 we have had meals at Brookside Garden Centre (private dining room with activities), organised trips on the Mary Sunley Canal Boat (5 trips each year) At Christmas we have a party – a sit-down turkey dinner with all the trimmings having sung carols to start with plus entertainment and games after lunch. We've organised coach trips to Trentham Gardens and Llandudno and in January 2019 and 2020 taken a coach party to see the Christmas Pantomime at The Plaza in Stockport. We also started a "Saturday Supper Club" in September 2017 meeting alternate weeks at a local restaurant to liven up weekends which has proved very popular.